Our Current Foremost Focus – Closing A Critical Gap
While there are many, many well-meaning organizations around the world that are focused on various causes, from medical care for 3rd world countries to homelessness, we have noticed that there seems to be one glaring gap: There is NO DEDICATED FUND FOR INTERNATIONAL DISASTER RELIEF!

Many hardworking organizations, such as the Red Cross, have a broader scope, addressing a variety of humanitarian needs. As a result, these organizations can get spread very thin. To make matters worse, the media tends to focus only on the events that bring ratings. Even if thousands are dying in one country due to a horrendous natural disaster, the attention of the world can be quickly distracted toward a more recent and perhaps more "exciting" news event, such as the birth of a celebrity couple's child or a bombing injuring dozens in a quiet town. All too often, the victims of natural disasters get forgotten about. Funding and attention lightens as the public view gets more calloused, less emotional, and concerned about other matters. Meanwhile, people continue to suffer, even when the limelight is no longer on their needs.

Following a disaster, immediate access to emergency funding is critical in order to care for the hundreds or thousands affected. Even though many governments and organizations may try to be prepared for these disasters, emergency funding is not usually specifically earmarked ahead of time for such events. Often they have to rely on some type of fundraising activity to generate additional funding, and this can sometimes take weeks to happen.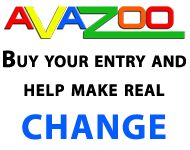 If you just look at the cost of some of the damages caused by these recent natural disasters around the world you will completely understand why Avazoo Worldwide has decided, for each Billion Dollar Raffle prize drawing, to allocate 20% of the secured, third-party escrow account to be donated to a Disaster Relief Fund.